External hard disk drives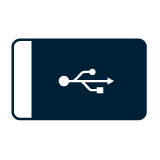 An external hard drive suitable for backups or for moving large files from one computer to another. Available in several sizes with different storage capacity, USB, Firewire and network access. Prices from 101 stores in this category.
PriceSpy is getting even better. We're still building, but starting today you can take a sneak peek at our new filter.
(No filter)
Showing all 372.
Product name

Price/GB

Form factor

Power management

Lowest price

Brand

Price in stock

Store

The price has been changed today
| | | Product | Lowest price | | User rating | Rank | Hard drive size | Price/GB | Form factor | |
| --- | --- | --- | --- | --- | --- | --- | --- | --- | --- | --- |
| | | External hard disk drive | 8 | | | 126 | 48,000 GB | 0.15 $/GB | 3.5 inches | |
| | | External hard disk drive | 5 | | | 201 | 48,000 GB | 0.18 $/GB | | |
| | | External hard disk drive | 7 | | | 189 | 32,000 GB | 0.22 $/GB | | |
| | | External hard disk drive | 5 | | | 180 | 30,000 GB | 0.16 $/GB | 3.5 inches | |
| | | External hard disk drive | | | | 377 | 24,000 GB | 0.00 $/GB | | |
| | | External hard disk drive | 9 | | | 86 | 24,000 GB | 0.17 $/GB | 3.5 inches | |
| | | External hard disk drive | 1 | | | 145 | 24,000 GB | 0.21 $/GB | 3.5 inches | |
| | | External hard disk drive | 4 | | | 216 | 24,000 GB | 0.24 $/GB | | |
| | | External hard disk drive | 4 | | | 334 | 20,000 GB | 0.12 $/GB | 3.5 inches | |
| | | External hard disk drive | 12 | | | 90 | 20,000 GB | 0.16 $/GB | 3.5 inches | |
| | | External hard disk drive | 1 | | | 346 | 20,000 GB | 0.16 $/GB | 3.5 inches | |
| | | External hard disk drive | 5 | | | 193 | 18,000 GB | 0.27 $/GB | | |
| | | External hard disk drive | 6 | | | 206 | 16,000 GB | 0.14 $/GB | 3.5 inches | |
| | | External hard disk drive | 1 | | | 144 | 16,000 GB | 0.20 $/GB | 3.5 inches | |
| | | External hard disk drive | | | | 246 | 12,000 GB | 0.00 $/GB | 3.5 inches | |
| | | External hard disk drive | | | | 379 | 12,000 GB | 0.00 $/GB | | |
| | | External hard disk drive | 12 | | | 107 | 12,000 GB | 0.09 $/GB | 3.5 inches | |
| | | External hard disk drive | 8 | | | 128 | 12,000 GB | 0.13 $/GB | 3.5 inches | |
| | | External hard disk drive | 10 | | | 124 | 12,000 GB | 0.15 $/GB | 3.5 inches | |
| | | External hard disk drive | 1 | | | 212 | 12,000 GB | 0.18 $/GB | 3.5 inches | |
| | | External hard disk drive | 11 | | | 92 | 12,000 GB | 0.22 $/GB | 3.5 inches | |
| | | External hard disk drive | 2 | | | 226 | 12,000 GB | 0.29 $/GB | 3.5 inches | |
| | | External hard disk drive | 3 | | | 140 | 12,000 GB | 0.32 $/GB | | |
| | | External hard disk drive | 1 | | | 210 | 12,000 GB | 0.32 $/GB | | |
| | | External hard disk drive | 10 | | | 162 | 10,000 GB | 0.10 $/GB | 3.5 inches | |
| | | External hard disk drive | 5 | | | 340 | 10,000 GB | 0.15 $/GB | 3.5 inches | |
| | | External hard disk drive | 1 | | | 345 | 10,000 GB | 0.17 $/GB | 3.5 inches | |
| | | External hard disk drive | 6 | | | 141 | 10,000 GB | 0.22 $/GB | 3.5 inches | |
| | | External hard disk drive | | | | 220 | 8,000 GB | 0.00 $/GB | 3.5 inches | |
| | | External hard disk drive | 23 | | | 21 | 8,000 GB | 0.06 $/GB | 3.5 inches | |
| | | External hard disk drive | 11 | | | 102 | 8,000 GB | 0.07 $/GB | 3.5 inches | |
| | | External hard disk drive | 22 | | | 66 | 8,000 GB | 0.09 $/GB | 3.5 inches | |
| | | External hard disk drive | 10 | | | 138 | 8,000 GB | 0.11 $/GB | 3.5 inches | |
| | | External hard disk drive | 13 | | | 82 | 8,000 GB | 0.14 $/GB | 3.5 inches | |
| | | External hard disk drive | 1 | | | 356 | 8,000 GB | 0.15 $/GB | 3.5 inches | |
| | | External hard disk drive | 10 | | | 131 | 8,000 GB | 0.16 $/GB | 3.5 inches | |
| | | External hard disk drive | 1 | | | 199 | 8,000 GB | 0.18 $/GB | 3.5 inches | |
| | | External hard disk drive | 1 | | | 361 | 8,000 GB | 0.18 $/GB | | |
| | | External hard disk drive | 4 | | | 70 | 8,000 GB | 0.33 $/GB | | |
| | | External hard disk drive | 21 | | | 154 | 6,000 GB | 0.07 $/GB | 3.5 inches | |
| | | External hard disk drive | 15 | | 1 user review | 78 | 6,000 GB | 0.08 $/GB | 3.5 inches | |
| | | External hard disk drive | 16 | | | 83 | 6,000 GB | 0.09 $/GB | 3.5 inches | |
| | | External hard disk drive | 11 | | | 197 | 6,000 GB | 0.11 $/GB | 3.5 inches | |
| | | External hard disk drive | 11 | | | 99 | 6,000 GB | 0.13 $/GB | 3.5 inches | |
| | | External hard disk drive | 2 | | | 271 | 6,000 GB | 0.15 $/GB | 3.5 inches | |
| | | External hard disk drive | 1 | | | 360 | 6,000 GB | 0.15 $/GB | 3.5 inches | |
| | | External hard disk drive | 1 | | | 294 | 6,000 GB | 0.16 $/GB | | |
| | | External hard disk drive | 6 | | | 177 | 6,000 GB | 0.17 $/GB | 3.5 inches | |
| | | External hard disk drive | 10 | | | 72 | 6,000 GB | 0.19 $/GB | 3.5 inches | |
| | | External hard disk drive | 1 | | | 215 | 6,000 GB | 0.20 $/GB | 3.5 inches | |
| | | External hard disk drive | 1 | | | 324 | 6,000 GB | 0.21 $/GB | | |
| | | External hard disk drive | 1 | | | 317 | 6,000 GB | 0.21 $/GB | | |
| | | External hard disk drive | 1 | | | 97 | 6,000 GB | 0.24 $/GB | | |
| | | External hard disk drive | 25 | | | 12 | 5,000 GB | 0.05 $/GB | 3.5 inches | |
| | | External hard disk drive | 19 | | 1 user review | 43 | 5,000 GB | 0.05 $/GB | 3.5 inches | |
| | | External hard disk drive | 24 | | | 28 | 5,000 GB | 0.06 $/GB | 3.5 inches | |
| | | External hard disk drive | 9 | | 1 user review | 42 | 5,000 GB | 0.06 $/GB | 3.5 inches | |
| | | External hard disk drive | 3 | | 1 user review | 164 | 5,000 GB | 0.06 $/GB | 3.5 inches | |
| | | External hard disk drive | 17 | | | 80 | 5,000 GB | 0.06 $/GB | 3.5 inches | |
| | | External hard disk drive | 12 | | | 150 | 5,000 GB | 0.08 $/GB | 3.5 inches | |
| | | External hard disk drive | 1 | | | 237 | 5,000 GB | 0.14 $/GB | 3.5 inches | |
| | | External hard disk drive | | | | 195 | 4,000 GB | 0.00 $/GB | 3.5 inches | |
| | | External hard disk drive | 28 | | | 11 | 4,000 GB | 0.05 $/GB | 3.5 inches | |
| | | External hard disk drive | 11 | | | 38 | 4,000 GB | 0.06 $/GB | 3.5 inches | |
| | | External hard disk drive | 19 | | 1 user review | 53 | 4,000 GB | 0.06 $/GB | 3.5 inches | |
| | | External hard disk drive | 4 | | 2 user reviews | 46 | 4,000 GB | 0.06 $/GB | 3.5 inches | |
| | | External hard disk drive | 2 | | 3 user reviews | 252 | 4,000 GB | 0.07 $/GB | 3.5 inches | |
| | | External hard disk drive | 2 | | | 214 | 4,000 GB | 0.07 $/GB | 3.5 inches | |
| | | External hard disk drive | 2 | | 2 user reviews | 203 | 4,000 GB | 0.07 $/GB | 3.5 inches | |
| | | External hard disk drive | 12 | | 1 user review | 153 | 4,000 GB | 0.07 $/GB | 3.5 inches | |
| | | External hard disk drive | 17 | | | 77 | 4,000 GB | 0.07 $/GB | 3.5 inches | |
| | | External hard disk drive | 17 | | 1 user review | 29 | 4,000 GB | 0.07 $/GB | 3.5 inches | |
| | | External hard disk drive | 15 | | | 13 | 4,000 GB | 0.07 $/GB | 2.5 inches | |
| | | External hard disk drive | 1 | | | 244 | 4,000 GB | 0.07 $/GB | 3.5 inches | |
| | | External hard disk drive | 6 | | | 114 | 4,000 GB | 0.08 $/GB | 2.5 inches | |
| | | External hard disk drive | 10 | | | 115 | 4,000 GB | 0.08 $/GB | 3.5 inches | |
| | | External hard disk drive | 24 | | 2 user reviews | 27 | 4,000 GB | 0.09 $/GB | 2.5 inches | |
| | | External hard disk drive | 6 | | | 163 | 4,000 GB | 0.09 $/GB | 3.5 inches | |
| | | External hard disk drive | 1 | | 2 user reviews | 364 | 4,000 GB | 0.10 $/GB | 3.5 inches | |
| | | External hard disk drive | 20 | | | 59 | 4,000 GB | 0.11 $/GB | 3.5 inches | |
| | | External hard disk drive | 1 | | | 362 | 4,000 GB | 0.14 $/GB | 3.5 inches | |
| | | External hard disk drive | 7 | | | 109 | 4,000 GB | 0.15 $/GB | 3.5 inches | |
| | | External hard disk drive | 1 | | | 306 | 4,000 GB | 0.15 $/GB | 3.5 inches | |
| | | External hard disk drive | 1 | | | 358 | 4,000 GB | 0.15 $/GB | 3.5 inches | |
| | | External hard disk drive | 12 | | | 65 | 4,000 GB | 0.16 $/GB | 2.5 inches | |
| | | External hard disk drive | 3 | | | 202 | 4,000 GB | 0.17 $/GB | 3.5 inches | |
| | | External hard disk drive | 2 | | | 219 | 4,000 GB | 0.18 $/GB | 3.5 inches | |
| | | External hard disk drive | 18 | | 1 user review | 89 | 4,000 GB | 0.19 $/GB | 2.5 inches | |
| | | External hard disk drive | 1 | | | 359 | 4,000 GB | 0.19 $/GB | 3.5 inches | |
| | | External hard disk drive | 1 | | | 316 | 4,000 GB | 0.21 $/GB | | |
| | | External hard disk drive | 2 | | | 273 | 4,000 GB | 0.22 $/GB | 3.5 inches | |
| | | External hard disk drive | 1 | | | 132 | 4,000 GB | 0.55 $/GB | 2.5 inches | |
| | | External hard disk drive | 31 | | | 16 | 3,000 GB | 0.05 $/GB | 3.5 inches | |
| | | External hard disk drive | 2 | | 3 user reviews | 257 | 3,000 GB | 0.06 $/GB | 3.5 inches | |
| | | External hard disk drive | 9 | | 10 user reviews | 35 | 3,000 GB | 0.06 $/GB | 3.5 inches | |
| | | External hard disk drive | 13 | | 5 user reviews | 185 | 3,000 GB | 0.06 $/GB | 3.5 inches | |
| | | External hard disk drive | 1 | | | 228 | 3,000 GB | 0.07 $/GB | 3.5 inches | |
| | | External hard disk drive | 18 | | | 165 | 3,000 GB | 0.07 $/GB | 3.5 inches | |
| | | External hard disk drive | 13 | | | 56 | 3,000 GB | 0.07 $/GB | 3.5 inches | |
| | | External hard disk drive | 3 | | | 225 | 3,000 GB | 0.07 $/GB | 3.5 inches | |