Steering wheels & pedals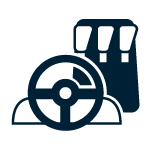 Wheel and pedals for racing games and car simulators increases the gaming experience and are available on several price levels. From manufacturers like Logitech, Microsoft, Thrustmaster and Mad Catz. Prices from 42 stores in this category.
PriceSpy is getting even better. We're still building, but starting today you can take a sneak peek at our new filter.
(No filter)
Showing all 35.
Product name

Platform

Type

Interfaces

Type of switch

Features

Battery operated

Lowest price

Brand

Price in stock

Store

The price has been changed today