Mice & pointing Devices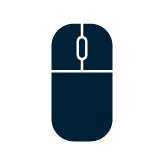 Mice, trackballs, touchpads and other pointing devices, ranging from the very cheapest ones up to extremely sophisticated models that will cost you an arma and a leg. Popular manufacturers are Pat Says Now, Logitech, Razer, Microsoft, Mionix and Ace. Prices from 103 stores in this category.
PriceSpy is getting even better. We're still building, but starting today you can take a sneak peek at our new filter.
(No filter)
Showing all 579.
Product name

Type of motion sensor

Connection

Operating resolution

Hardware connection

Colour

Lowest price

Brand

Price in stock

Store

The price has been changed today
| | | Product | Lowest price | | User rating | Rank | Type of motion sensor | Connection | Operating resolution | |
| --- | --- | --- | --- | --- | --- | --- | --- | --- | --- | --- |
| | | Mouse & pointing Device | 48 | | 40 user reviews | 1 | Optical | Wired | 12,000 dpi | |
| | | Mouse & pointing Device | 35 | | 12 user reviews | 2 | Laser | Wireless | 1,600 dpi | |
| | | Mouse & pointing Device | 7 | | | 3 | Optical | Wired | 12,000 dpi | |
| | | Mouse & pointing Device | 29 | | 24 user reviews | 4 | Optical | Wired | 10,000 dpi | |
| | | Mouse & pointing Device | 45 | | 8 user reviews | 5 | Optical | Wired | 4,000 dpi | |
| | | Mouse & pointing Device | 36 | | 6 user reviews | 6 | Laser | Wireless | 1,600 dpi | |
| | | Mouse & pointing Device | 48 | | 53 user reviews | 7 | Laser | Wireless | 1,000 dpi | |
| | | Mouse & pointing Device | 32 | | 9 user reviews | 8 | Optical | Wired | 12,000 dpi | |
| | | Mouse & pointing Device | 33 | | 1 user review | 9 | Optical | Wireless | 1,000 dpi | |
| | | Mouse & pointing Device | 15 | | 4 user reviews | 10 | Optical | Wired | 4,000 dpi | |
| | | Mouse & pointing Device | 25 | | 4 user reviews | 11 | Laser | Wired | 8,200 dpi | |
| | | Mouse & pointing Device | 19 | | 5 user reviews | 12 | Laser | Wired | 16,000 dpi | |
| | | Mouse & pointing Device | 26 | | 6 user reviews | 13 | Optical | Wireless | 1,000 dpi | |
| | | Mouse & pointing Device | 46 | | 1 user review | 14 | Optical | Wireless | 1,000 dpi | |
| | | Mouse & pointing Device | 13 | | 66 user reviews | 15 | Optical | Wired | 6,500 dpi | |
| | | Mouse & pointing Device | 10 | | 13 user reviews | 16 | Laser | Wired | 8,200 dpi | |
| | | Mouse & pointing Device | 15 | | 3 user reviews | 17 | Optical | Wired | 6,500 dpi | |
| | | Mouse & pointing Device | 51 | | 19 user reviews | 18 | Ball | Wireless | 400 dpi | |
| | | Mouse & pointing Device | 13 | | 29 user reviews | 19 | Laser | Wired | 6,400 dpi | |
| | | Mouse & pointing Device | 45 | | 20 user reviews | 20 | Optical | Wireless | 2,500 dpi | |
| | | Mouse & pointing Device | 14 | | 1 user review | 21 | Optical | Wireless | 1,000 dpi | |
| | | Mouse & pointing Device | 52 | | 2 user reviews | 22 | Optical | Wireless | 1,000 dpi | |
| | | Mouse & pointing Device | 14 | | | 23 | Optical | Wired | 6,500 dpi | |
| | | Mouse & pointing Device | 21 | | 4 user reviews | 24 | Laser | Wireless | 1,000 dpi | |
| | | Mouse & pointing Device | 19 | | 2 user reviews | 25 | Laser | Wireless | 16,000 dpi | |
| | | Mouse & pointing Device | 11 | | | 26 | Laser | Wireless | | |
| | | Mouse & pointing Device | 38 | | 13 user reviews | 27 | Laser | Wired | 8,200 dpi | |
| | | Mouse & pointing Device | 18 | | 2 user reviews | 28 | Optical | Wired | 1,200 dpi | |
| | | Mouse & pointing Device | 13 | | 3 user reviews | 29 | Optical | Wired | 12,000 dpi | |
| | | Mouse & pointing Device | 18 | | 33 user reviews | 30 | Laser | Wired | 11,400 dpi | |
| | | Mouse & pointing Device | 38 | | 3 user reviews | 31 | Optical | Wired | 4,000 dpi | |
| | | Mouse & pointing Device | 44 | | 11 user reviews | 32 | Laser | Wireless | 8,200 dpi | |
| | | Mouse & pointing Device | 29 | | 4 user reviews | 33 | Optical | Wireless | 1,000 dpi | |
| | | Mouse & pointing Device | 31 | | 14 user reviews | 34 | Laser | Wireless | 8,200 dpi | |
| | | Mouse & pointing Device | 43 | | 2 user reviews | 35 | Optical | Wireless | 1,000 dpi | |
| | | Mouse & pointing Device | 11 | | 68 user reviews | 36 | Laser | Wireless | 1,300 dpi | |
| | | Mouse & pointing Device | 4 | | 5 user reviews | 37 | Laser | Wired | 5,600 dpi | |
| | | Mouse & pointing Device | 43 | | | 38 | Optical | Wireless | 1,000 dpi | |
| | | Mouse & pointing Device | 12 | | 12 user reviews | 39 | Optical | Wired | 6,400 dpi | |
| | | Mouse & pointing Device | 15 | | 1 user review | 40 | Laser | Wireless | 1,500 dpi | |
| | | Mouse & pointing Device | 5 | | 11 user reviews | 41 | Optical | Wired | 2,500 dpi | |
| | | Mouse & pointing Device | 12 | | 3 user reviews | 42 | Optical | Wired | 2,000 dpi | |
| | | Mouse & pointing Device | 22 | | 5 user reviews | 43 | Optical | Wireless | 1,000 dpi | |
| | | Mouse & pointing Device | 6 | | 31 user reviews | 44 | Optical | Wired | 6,400 dpi | |
| | | Mouse & pointing Device | 17 | | 1 user review | 45 | Optical | Wireless | 1,230 dpi | |
| | | Mouse & pointing Device | 43 | | 1 user review | 46 | Optical | Wireless | 800 dpi | |
| | | Mouse & pointing Device | 23 | | 2 user reviews | 47 | Laser | Wireless | 8,200 dpi | |
| | | Mouse & pointing Device | 9 | | 4 user reviews | 48 | Laser | Wired | 5,600 dpi | |
| | | Mouse & pointing Device | 6 | | 13 user reviews | 49 | Laser | Wired | 5,670 dpi | |
| | | Mouse & pointing Device | 9 | | | 50 | Laser | Wireless | 8,200 dpi | |
| | | Mouse & pointing Device | 14 | | 4 user reviews | 51 | Optical | Wired | | |
| | | Mouse & pointing Device | 5 | | | 52 | Optical | Wireless | 1,000 dpi | |
| | | Mouse & pointing Device | 50 | | 8 user reviews | 53 | Laser | Wireless | 1,000 dpi | |
| | | Mouse & pointing Device | 3 | | 14 user reviews | 54 | Laser | Wireless | 6,400 dpi | |
| | | Mouse & pointing Device | 12 | | | 55 | Optical | Wireless | 1,000 dpi | |
| | | Mouse & pointing Device | 11 | | | 56 | Optical | | 3,000 dpi | |
| | | Mouse & pointing Device | 13 | | 5 user reviews | 57 | Laser | Wireless | 8,200 dpi | |
| | | Mouse & pointing Device | 10 | | | 58 | | Wireless | | |
| | | Mouse & pointing Device | 21 | | | 59 | Optical | Wireless | 1,600 dpi | |
| | | Mouse & pointing Device | 16 | | 1 user review | 60 | Laser | Wired | 16,000 dpi | |
| | | Mouse & pointing Device | 20 | | 1 user review | 61 | Optical | Wired | 6,400 dpi | |
| | | Mouse & pointing Device | 9 | | | 62 | Laser | Wired | 16,000 dpi | |
| | | Mouse & pointing Device | 10 | | | 63 | Laser | Wired | 8,200 dpi | |
| | | Mouse & pointing Device | 2 | | 7 user reviews | 64 | Laser | Wired | 8,200 dpi | |
| | | Mouse & pointing Device | 23 | | 3 user reviews | 65 | Optical | Wired | 400 dpi | |
| | | Mouse & pointing Device | 18 | | 1 user review | 66 | Optical | Wireless | 1,000 dpi | |
| | | Mouse & pointing Device | 6 | | 107 user reviews | 67 | Laser | Wireless | 1,500 dpi | |
| | | Mouse & pointing Device | 7 | | 42 user reviews | 69 | | Wireless | | |
| | | Mouse & pointing Device | 14 | | 3 user reviews | 70 | Optical | Wireless | 1,000 dpi | |
| | | Mouse & pointing Device | 45 | | 2 user reviews | 71 | Optical | Wired | 1,000 dpi | |
| | | Mouse & pointing Device | 12 | | 4 user reviews | 72 | Optical | Wired | | |
| | | Mouse & pointing Device | 1 | | 5 user reviews | 73 | Optical | Wireless | 1,000 dpi | |
| | | Mouse & pointing Device | 14 | | 1 user review | 74 | Optical | Wireless | 2,600 dpi | |
| | | Mouse & pointing Device | 11 | | 6 user reviews | 76 | Optical | Wired | 3,600 dpi | |
| | | Mouse & pointing Device | 10 | | 3 user reviews | 77 | Laser | Wired | 8,200 dpi | |
| | | Mouse & pointing Device | 36 | | 1 user review | 78 | Optical | Wireless | 1,000 dpi | |
| | | Mouse & pointing Device | 1 | | 3 user reviews | 79 | Laser | Wired | 2,000 dpi | |
| | | Mouse & pointing Device | 1 | | 3 user reviews | 80 | Laser | Wired | 8,200 dpi | |
| | | Mouse & pointing Device | 21 | | 2 user reviews | 81 | Laser | Wired | 8,200 dpi | |
| | | Mouse & pointing Device | 28 | | 7 user reviews | 82 | Optical | Wired | 8,200 dpi | |
| | | Mouse & pointing Device | 23 | | 4 user reviews | 83 | Laser | Wireless | 6,400 dpi | |
| | | Mouse & pointing Device | 3 | | 17 user reviews | 84 | Laser | Wireless | 1,000 dpi | |
| | | Mouse & pointing Device | 45 | | 8 user reviews | 85 | Optical | Wired | 300 dpi | |
| | | Mouse & pointing Device | 6 | | | 86 | Optical | Wireless | | |
| | | Mouse & pointing Device | 15 | | 1 user review | 87 | Optical | Wired | 2,400 dpi | |
| | | Mouse & pointing Device | 6 | | 2 user reviews | 88 | | Wired | | |
| | | Mouse & pointing Device | 1 | | 1 user review | 89 | Optical | Wired | 4,000 dpi | |
| | | Mouse & pointing Device | 25 | | | 90 | Optical | Wired | 400 dpi | |
| | | Mouse & pointing Device | 1 | | | 91 | Optical | Wired | 5,000 dpi | |
| | | Mouse & pointing Device | 13 | | | 92 | Optical | Wireless | 1,200 dpi | |
| | | Mouse & pointing Device | 1 | | | 93 | Optical | Wired | | |
| | | Mouse & pointing Device | 42 | | | 94 | Optical | Wireless | 1,200 dpi | |
| | | Mouse & pointing Device | 1 | | 9 user reviews | 95 | Laser | Wired | 8,200 dpi | |
| | | Mouse & pointing Device | 55 | | 5 user reviews | 96 | Optical | Wireless | 1,000 dpi | |
| | | Mouse & pointing Device | 17 | | | 97 | Optical | Wireless | 1,200 dpi | |
| | | Mouse & pointing Device | 3 | | 14 user reviews | 98 | Laser | Wired | 8,200 dpi | |
| | | Mouse & pointing Device | 18 | | | 99 | Optical | | 3,000 dpi | |
| | | Mouse & pointing Device | 8 | | | 100 | Laser | Wireless | 1,600 dpi | |
| | | Mouse & pointing Device | 6 | | | 101 | | Wireless | | |
| | | Mouse & pointing Device | 25 | | 3 user reviews | 102 | Optical | Wired | 1,000 dpi | |