Graphics cards (PCI Express)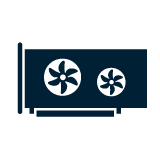 The inveterate player needs a powerful graphics card - the part of a computer that generates the screen image. We list PCI Express graphics cards from manufacturers such as Sapphire, Asus, Gigabyte and XFX. Prices from 70 stores in this category.
PriceSpy is getting even better. We're still building, but starting today you can take a sneak peek at our new filter.
(No filter)
Showing all 587.
Product name

Graphics processor

GeForce

Radeon

FirePro

Quadro

FireGL V3350

Millennium P690

Not included

Memory type

Memory capacity

Unified Shaders

Processor speed

Lowest price

Brand

Price in stock

Store

The price has been changed today
| | | Product | Lowest price | | User rating | Rank | Graphics processor | Memory type | Memory capacity | |
| --- | --- | --- | --- | --- | --- | --- | --- | --- | --- | --- |
| | | Graphics card (PCI Express) | 40 | | 24 user reviews | 1 | GeForce GTX 970 | GDDR5 | 4GB | |
| | | Graphics card (PCI Express) | 42 | | 32 user reviews | 2 | GeForce GTX 970 | GDDR5 | 4GB | |
| | | Graphics card (PCI Express) | 14 | | 1 user review | 3 | Radeon R9-390 | GDDR5 | 8GB | |
| | | Graphics card (PCI Express) | 33 | | 3 user reviews | 4 | GeForce GTX 980 Ti | GDDR5 | 6GB | |
| | | Graphics card (PCI Express) | 33 | | 10 user reviews | 5 | GeForce GTX 970 | GDDR5 | 4GB | |
| | | Graphics card (PCI Express) | 25 | | | 6 | Radeon R9-390 | GDDR5 | 8GB | |
| | | Graphics card (PCI Express) | 28 | | 1 user review | 7 | GeForce GTX 960 | GDDR5 | 4GB | |
| | | Graphics card (PCI Express) | 18 | | | 8 | GeForce GTX 960 | GDDR5 | 4GB | |
| | | Graphics card (PCI Express) | 31 | | | 9 | GeForce GTX 960 | GDDR5 | 4GB | |
| | | Graphics card (PCI Express) | 31 | | 1 user review | 10 | GeForce GTX 960 | GDDR5 | 4GB | |
| | | Graphics card (PCI Express) | 23 | | | 11 | GeForce GTX 970 | GDDR5 | 4GB | |
| | | Graphics card (PCI Express) | 23 | | 3 user reviews | 12 | GeForce GTX 750 Ti | GDDR5 | 2GB | |
| | | Graphics card (PCI Express) | 30 | | 3 user reviews | 13 | GeForce GTX 980 Ti | GDDR5 | 6GB | |
| | | Graphics card (PCI Express) | 18 | | | 14 | GeForce GTX 980 Ti | GDDR5 | 6GB | |
| | | Graphics card (PCI Express) | 22 | | | 15 | Radeon R9-390 | GDDR5 | 8GB | |
| | | Graphics card (PCI Express) | 15 | | 1 user review | 16 | Radeon R9-380 | GDDR5 | 4GB | |
| | | Graphics card (PCI Express) | 31 | | | 17 | GeForce GTX 980 | GDDR5 | 4GB | |
| | | Graphics card (PCI Express) | 17 | | | 18 | Radeon R9 Nano | HBM | 4GB | |
| | | Graphics card (PCI Express) | 19 | | | 19 | Radeon R9-380X | GDDR5 | 4GB | |
| | | Graphics card (PCI Express) | 29 | | 2 user reviews | 20 | GeForce GTX 950 | GDDR5 | 2GB | |
| | | Graphics card (PCI Express) | 5 | | 7 user reviews | 21 | Radeon R9-390 | GDDR5 | 8GB | |
| | | Graphics card (PCI Express) | 21 | | | 22 | Radeon R9-390X | GDDR5 | 8GB | |
| | | Graphics card (PCI Express) | 36 | | | 23 | Radeon R9-380 | GDDR5 | 2GB | |
| | | Graphics card (PCI Express) | 23 | | 1 user review | 24 | GeForce GTX 950 | GDDR5 | 2GB | |
| | | Graphics card (PCI Express) | 3 | | 31 user reviews | 25 | GeForce GTX 970 | GDDR5 | 4GB | |
| | | Graphics card (PCI Express) | 29 | | 12 user reviews | 26 | GeForce GTX 960 | GDDR5 | 2GB | |
| | | Graphics card (PCI Express) | 24 | | | 27 | GeForce GTX 960 | GDDR5 | 2GB | |
| | | Graphics card (PCI Express) | 27 | | 7 user reviews | 28 | GeForce GTX 970 | GDDR5 | 4GB | |
| | | Graphics card (PCI Express) | 23 | | | 29 | Radeon R9-380 | GDDR5 | 4GB | |
| | | Graphics card (PCI Express) | 31 | | | 30 | Radeon R7-370 | GDDR5 | 2GB | |
| | | Graphics card (PCI Express) | 21 | | 7 user reviews | 31 | GeForce GTX 980 Ti | GDDR5 | 6GB | |
| | | Graphics card (PCI Express) | 20 | | 1 user review | 32 | GeForce GTX 750 Ti | GDDR5 | 2GB | |
| | | Graphics card (PCI Express) | 27 | | | 33 | GeForce GTX 750 Ti | GDDR5 | 2GB | |
| | | Graphics card (PCI Express) | 15 | | | 34 | Radeon R9-380X | GDDR5 | 4GB | |
| | | Graphics card (PCI Express) | 17 | | | 35 | GeForce GTX 980 Ti | GDDR5 | 6GB | |
| | | Graphics card (PCI Express) | 24 | | 10 user reviews | 36 | GeForce GTX 980 | GDDR5 | 4GB | |
| | | Graphics card (PCI Express) | 16 | | | 37 | GeForce GTX 980 Ti | GDDR5 | 6GB | |
| | | Graphics card (PCI Express) | 24 | | 3 user reviews | 38 | GeForce GTX 970 | GDDR5 | 4GB | |
| | | Graphics card (PCI Express) | 11 | | | 39 | GeForce GTX 960 | GDDR5 | 2GB | |
| | | Graphics card (PCI Express) | 9 | | | 40 | GeForce GTX 950 | GDDR5 | 2GB | |
| | | Graphics card (PCI Express) | 33 | | 4 user reviews | 41 | GeForce GTX 970 | GDDR5 | 4GB | |
| | | Graphics card (PCI Express) | 21 | | 2 user reviews | 42 | GeForce GTX Titan X | GDDR5 | 12GB | |
| | | Graphics card (PCI Express) | 17 | | | 43 | GeForce GTX 970 | GDDR5 | 4GB | |
| | | Graphics card (PCI Express) | 20 | | | 44 | Radeon R7-370 | GDDR5 | 4GB | |
| | | Graphics card (PCI Express) | 21 | | 1 user review | 45 | Radeon R9 Fury | HBM | 4GB | |
| | | Graphics card (PCI Express) | 13 | | | 46 | GeForce GTX 960 | GDDR5 | 4GB | |
| | | Graphics card (PCI Express) | 18 | | 1 user review | 47 | GeForce GTX 970 | GDDR5 | 4GB | |
| | | Graphics card (PCI Express) | 22 | | | 48 | GeForce GTX Titan X | GDDR5 | 12GB | |
| | | Graphics card (PCI Express) | 18 | | | 49 | GeForce GTX 950 | GDDR5 | 2GB | |
| | | Graphics card (PCI Express) | 42 | | | 50 | GeForce 210 | DDR3 | 1GB | |
| | | Graphics card (PCI Express) | 21 | | 2 user reviews | 51 | Radeon R9 Fury X | HBM | 4GB | |
| | | Graphics card (PCI Express) | 43 | | 10 user reviews | 52 | GeForce GTX 980 | GDDR5 | 4GB | |
| | | Graphics card (PCI Express) | 4 | | 3 user reviews | 53 | Radeon R9-390X | GDDR5 | 8GB | |
| | | Graphics card (PCI Express) | 11 | | | 54 | Radeon R7-250 | DDR3 | 2GB | |
| | | Graphics card (PCI Express) | 19 | | | 55 | Radeon R9-390X | GDDR5 | 8GB | |
| | | Graphics card (PCI Express) | 3 | | 3 user reviews | 56 | Radeon R9-390 | GDDR5 | 8GB | |
| | | Graphics card (PCI Express) | 20 | | 1 user review | 57 | GeForce GTX 950 | GDDR5 | 2GB | |
| | | Graphics card (PCI Express) | 22 | | | 58 | GeForce GT 720 | DDR3 | 2GB | |
| | | Graphics card (PCI Express) | 37 | | 4 user reviews | 59 | GeForce GTX 980 | GDDR5 | 4GB | |
| | | Graphics card (PCI Express) | 11 | | | 60 | Radeon R9-390X | GDDR5 | 8GB | |
| | | Graphics card (PCI Express) | 12 | | | 61 | GeForce GTX 980 Ti | GDDR5 | 6GB | |
| | | Graphics card (PCI Express) | 31 | | | 62 | Radeon R7-370 | GDDR5 | 4GB | |
| | | Graphics card (PCI Express) | 19 | | | 63 | GeForce GTX 980 Ti | GDDR5 | 6GB | |
| | | Graphics card (PCI Express) | 32 | | | 64 | GeForce GTX 960 | GDDR5 | 2GB | |
| | | Graphics card (PCI Express) | 7 | | | 65 | GeForce GTX 960 | GDDR5 | 2GB | |
| | | Graphics card (PCI Express) | 24 | | | 66 | Radeon R7-240 | DDR3 | 2GB | |
| | | Graphics card (PCI Express) | 32 | | | 67 | GeForce GT 730 | DDR3 | 2GB | |
| | | Graphics card (PCI Express) | 22 | | 1 user review | 68 | Radeon R9-380 | GDDR5 | 4GB | |
| | | Graphics card (PCI Express) | 17 | | | 69 | Radeon R7-360 | GDDR5 | 2GB | |
| | | Graphics card (PCI Express) | 36 | | 2 user reviews | 70 | GeForce GT 730 | DDR3 | 2GB | |
| | | Graphics card (PCI Express) | 4 | | 2 user reviews | 71 | GeForce GTX 980 Ti | GDDR5 | 6GB | |
| | | Graphics card (PCI Express) | 22 | | | 72 | GeForce GT 610 | DDR3 | 2GB | |
| | | Graphics card (PCI Express) | 14 | | | 73 | Radeon R7-360 | GDDR5 | 2GB | |
| | | Graphics card (PCI Express) | 17 | | | 74 | Radeon R9-390X | GDDR5 | 8GB | |
| | | Graphics card (PCI Express) | 12 | | | 75 | Radeon R9-380 | GDDR5 | 2GB | |
| | | Graphics card (PCI Express) | 4 | | | 76 | GeForce GTX Titan X | GDDR5 | 12GB | |
| | | Graphics card (PCI Express) | 19 | | | 77 | GeForce GTX 970 | GDDR5 | 4GB | |
| | | Graphics card (PCI Express) | 17 | | | 78 | GeForce GTX 960 | GDDR5 | 4GB | |
| | | Graphics card (PCI Express) | 32 | | | 79 | Radeon R7-360 | GDDR5 | 2GB | |
| | | Graphics card (PCI Express) | 7 | | | 80 | GeForce GTX 980 Ti | GDDR5 | 6GB | |
| | | Graphics card (PCI Express) | 13 | | | 81 | GeForce GTX 980 Ti | GDDR5 | 6GB | |
| | | Graphics card (PCI Express) | 38 | | 5 user reviews | 82 | GeForce GT 610 | DDR3 | 1GB | |
| | | Graphics card (PCI Express) | 20 | | | 83 | Radeon R7-240 | DDR3 | 2GB | |
| | | Graphics card (PCI Express) | 23 | | | 84 | GeForce GTX 950 | GDDR5 | 2GB | |
| | | Graphics card (PCI Express) | 1 | | | 85 | GeForce GTX 980 Ti | GDDR5 | 6GB | |
| | | Graphics card (PCI Express) | 15 | | | 86 | | | 8GB | |
| | | Graphics card (PCI Express) | 5 | | 3 user reviews | 87 | GeForce GTX 750 | GDDR5 | 1GB | |
| | | Graphics card (PCI Express) | 5 | | 2 user reviews | 88 | Radeon R9-270X | GDDR5 | 2GB | |
| | | Graphics card (PCI Express) | 16 | | | 89 | Quadro K620 | DDR3 | 2GB | |
| | | Graphics card (PCI Express) | 23 | | 2 user reviews | 90 | Radeon HD5450 | DDR3 | 512MB | |
| | | Graphics card (PCI Express) | 3 | | 7 user reviews | 91 | GeForce GTX 980 | GDDR5 | 4GB | |
| | | Graphics card (PCI Express) | 4 | | | 92 | Quadro M6000 | | 12GB | |
| | | Graphics card (PCI Express) | 6 | | | 93 | GeForce GTX 950 | GDDR5 | 2GB | |
| | | Graphics card (PCI Express) | 24 | | 2 user reviews | 94 | GeForce GTX 750 Ti | GDDR5 | 2GB | |
| | | Graphics card (PCI Express) | 4 | | | 95 | Radeon R9-270 | GDDR5 | 2GB | |
| | | Graphics card (PCI Express) | 6 | | | 96 | GeForce GTX 660 | GDDR5 | 2GB | |
| | | Graphics card (PCI Express) | 21 | | | 97 | GeForce GTX 980 Ti | GDDR5 | 6GB | |
| | | Graphics card (PCI Express) | 24 | | 1 user review | 98 | GeForce GTX 960 | GDDR5 | 2GB | |
| | | Graphics card (PCI Express) | 15 | | | 99 | GeForce GT 740 | GDDR5 | 2GB | |
| | | Graphics card (PCI Express) | 15 | | | 100 | Radeon R9 Fury | HBM | 4GB | |