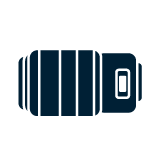 DSLR cameras has interchangeable lenses allowing you to adapt your photographing to the current conditions, making it possible to obtain shots of better quality. Fixed focal length lenses often offer better brightness, while a zoom lens is more versatile. Be aware that the lens mount may differ between manufacturers. Tips:
Why not compare prices on Digital SLR cameras as well?
Prices from 53 stores in this category.
PriceSpy is getting even better. We're still building, but starting today you can take a sneak peek at our new filter.
(No filter)
Showing all 1159.
Product name

Construction

Format

Lowest price

Brand

Price in stock

Store

The price has been changed today
| | | Product | Lowest price | | User rating | Rank | Construction | Image stabiliser | Lens mount system | |
| --- | --- | --- | --- | --- | --- | --- | --- | --- | --- | --- |
| | | Lens | 21 | | 7 user reviews | 1 | Zoom | Yes | Canon EF-S | |
| | | Lens | 18 | | 40 user reviews | 2 | Fixed | No | Nikon F | |
| | | Lens | 24 | | 18 user reviews | 3 | Zoom | Yes | Canon EF | |
| | | Lens | 13 | | 4 user reviews | 4 | Fixed | No | Canon EF | |
| | | Lens | 20 | | 10 user reviews | 5 | Zoom | Yes | Canon EF | |
| | | Lens | 30 | | 32 user reviews | 6 | Fixed | No | Canon EF | |
| | | Lens | 14 | | 2 user reviews | 7 | Fixed | No | Canon EF-S | |
| | | Lens | 23 | | 10 user reviews | 8 | Fixed | No | Nikon F | |
| | | Lens | 24 | | 2 user reviews | 9 | Zoom | Yes | Canon EF-S | |
| | | Lens | 16 | | 6 user reviews | 10 | Fixed | No | Canon EF | |
| | | Lens | 14 | | 93 user reviews | 11 | Fixed | No | Canon EF | |
| | | Lens | 18 | | 7 user reviews | 12 | Zoom | Yes | Canon EF | |
| | | Lens | 16 | | 6 user reviews | 13 | Zoom | No | Canon EF | |
| | | Lens | 9 | | 2 user reviews | 14 | Zoom | Yes | Canon EF-S | |
| | | Lens | 17 | | | 15 | Zoom | Yes | Canon EF | |
| | | Lens | 21 | | 3 user reviews | 16 | Zoom | Yes | Nikon F | |
| | | Lens | 18 | | 14 user reviews | 17 | Zoom | Yes | Nikon F | |
| | | Lens | 20 | | 1 user review | 18 | Zoom | No | Canon EF | |
| | | Lens | 23 | | 4 user reviews | 19 | Zoom | Yes | Canon EF-S | |
| | | Lens | 18 | | 11 user reviews | 20 | Zoom | No | Nikon F | |
| | | Lens | 21 | | 25 user reviews | 21 | Zoom | No | Canon EF | |
| | | Lens | 16 | | 11 user reviews | 22 | Zoom | Yes | Canon EF | |
| | | Lens | 17 | | 7 user reviews | 23 | Zoom | No | Canon EF | |
| | | Lens | 17 | | | 24 | Zoom | Yes | Nikon F | |
| | | Lens | 16 | | | 25 | Zoom | Yes | Canon EF | |
| | | Lens | 24 | | 11 user reviews | 26 | Fixed | Yes | Canon EF | |
| | | Lens | 17 | | 2 user reviews | 27 | Zoom | Yes | Sony E (NEX) | |
| | | Lens | 14 | | 2 user reviews | 28 | Fixed | Yes | Sony E (NEX) | |
| | | Lens | 11 | | 2 user reviews | 29 | Fixed | No | Canon EF | |
| | | Lens | 10 | | | 30 | Zoom | No | Canon EF | |
| | | Lens | 19 | | 43 user reviews | 31 | Fixed | No | Nikon F | |
| | | Lens | 23 | | 23 user reviews | 32 | Zoom | Yes | Canon EF | |
| | | Lens | 9 | | | 33 | Zoom | Yes | Nikon F | |
| | | Lens | 14 | | 22 user reviews | 34 | Zoom | Yes | Nikon F | |
| | | Lens | 6 | | 1 user review | 35 | Fixed | Yes | Sony E (NEX) | |
| | | Lens | 14 | | 6 user reviews | 36 | Zoom | Yes | Canon EF | |
| | | Lens | 9 | | | 37 | Zoom | Yes | Canon EF | |
| | | Lens | 16 | | 10 user reviews | 38 | Fixed | No | Canon EF | |
| | | Lens | 10 | | 3 user reviews | 39 | Zoom | Yes | Canon EF | |
| | | Lens | 14 | | | 40 | Zoom | Yes | Nikon F | |
| | | Lens | 8 | | 6 user reviews | 41 | Zoom | Yes | Nikon F | |
| | | Lens | 22 | | 5 user reviews | 42 | Zoom | Yes | Nikon F | |
| | | Lens | 11 | | 1 user review | 43 | Zoom | No | Nikon F | |
| | | Lens | 18 | | 7 user reviews | 44 | Fixed | No | Nikon F | |
| | | Lens | 11 | | 5 user reviews | 45 | Zoom | Yes | Canon EF-S | |
| | | Lens | 6 | | 5 user reviews | 46 | Fixed | No | Nikon F | |
| | | Lens | 17 | | 17 user reviews | 47 | Zoom | Yes | Canon EF | |
| | | Lens | 12 | | 3 user reviews | 48 | Fixed | No | Canon EF | |
| | | Lens | 10 | | 2 user reviews | 49 | Fixed | No | Olympus/Panasonic Micro 4/3 | |
| | | Lens | 12 | | | 50 | Zoom | Yes | Nikon F | |
| | | Lens | 19 | | | 51 | Zoom | Yes | Canon EF | |
| | | Lens | 17 | | 3 user reviews | 52 | Fixed | No | Canon EF | |
| | | Lens | 10 | | | 53 | Zoom | Yes | Nikon F | |
| | | Lens | 11 | | 3 user reviews | 54 | Zoom | No | Canon EF | |
| | | Lens | 7 | | | 55 | Zoom | Yes | Sony E (NEX) | |
| | | Lens | 4 | | 1 user review | 56 | Zoom | Yes | Olympus/Panasonic Micro 4/3 | |
| | | Lens | 23 | | 7 user reviews | 57 | Fixed | No | Canon EF | |
| | | Lens | 9 | | | 58 | Zoom | Yes | Nikon F | |
| | | Lens | 14 | | 1 user review | 59 | Zoom | Yes | Nikon F | |
| | | Lens | 15 | | 6 user reviews | 60 | Zoom | Yes | Canon EF | |
| | | Lens | 7 | | 2 user reviews | 61 | Fixed | No | Sony E (NEX) | |
| | | Lens | 19 | | 13 user reviews | 62 | Zoom | No | Canon EF | |
| | | Lens | 18 | | 16 user reviews | 63 | Zoom | Yes | Canon EF-S | |
| | | Lens | 16 | | 7 user reviews | 64 | Zoom | Yes | Canon EF-S | |
| | | Lens | 5 | | | 65 | Zoom | Yes | Canon EF | |
| | | Lens | 9 | | 2 user reviews | 66 | Zoom | Yes | Nikon F | |
| | | Lens | 22 | | 8 user reviews | 67 | Fixed | No | Canon EF-S | |
| | | Lens | 7 | | 12 user reviews | 68 | Zoom | Yes | Nikon F | |
| | | Lens | 19 | | 5 user reviews | 69 | Fixed | No | Canon EF | |
| | | Lens | 16 | | 1 user review | 70 | Zoom | Yes | Nikon F | |
| | | Lens | 10 | | 3 user reviews | 71 | Zoom | Yes | Nikon F | |
| | | Lens | 14 | | 2 user reviews | 72 | Zoom | Yes | Nikon F | |
| | | Lens | 8 | | 2 user reviews | 73 | Zoom | No | Olympus/Panasonic Micro 4/3 | |
| | | Lens | 8 | | 1 user review | 74 | Zoom | Yes | Sony E (NEX) | |
| | | Lens | 3 | | 3 user reviews | 75 | Fixed | No | Sony E (NEX) | |
| | | Lens | 14 | | 2 user reviews | 76 | Zoom | Yes | Nikon F | |
| | | Lens | 7 | | | 77 | Zoom | No | Nikon F | |
| | | Lens | 6 | | 1 user review | 78 | Zoom | Yes | Nikon F | |
| | | Lens | 13 | | | 79 | Zoom | Yes | Nikon F | |
| | | Lens | 8 | | | 80 | Zoom | No | Nikon F | |
| | | Lens | 10 | | 1 user review | 81 | Zoom | No | Olympus/Panasonic Micro 4/3 | |
| | | Lens | 12 | | 1 user review | 82 | Zoom | Yes | Nikon F | |
| | | Lens | 7 | | 1 user review | 83 | Zoom | Yes | Sony E (NEX) | |
| | | Lens | 12 | | 10 user reviews | 84 | Zoom | Yes | Nikon F | |
| | | Lens | 14 | | 1 user review | 85 | Fixed | No | Fujifilm X | |
| | | Lens | 11 | | 1 user review | 86 | Zoom | Yes | Canon EF | |
| | | Lens | 2 | | | 87 | Fixed | Yes | Sony E (NEX) | |
| | | Lens | 14 | | 1 user review | 88 | Fixed | | Canon EF | |
| | | Lens | 12 | | 5 user reviews | 89 | Zoom | No | Nikon F | |
| | | Lens | 6 | | 1 user review | 90 | Fixed | No | Sony E (NEX) | |
| | | Lens | 9 | | | 91 | Fixed | No | Olympus/Panasonic Micro 4/3 | |
| | | Lens | 16 | | 4 user reviews | 92 | Zoom | Yes | Canon EF | |
| | | Lens | 8 | | | 93 | Zoom | No | Olympus/Panasonic Micro 4/3 | |
| | | Lens | 14 | | | 94 | Fixed | No | Nikon F | |
| | | Lens | 10 | | | 95 | Fixed | No | Olympus/Panasonic Micro 4/3 | |
| | | Lens | 5 | | | 96 | Zoom | Yes | Sony E (NEX) | |
| | | Lens | 15 | | 4 user reviews | 97 | Zoom | Yes | Canon EF | |
| | | Lens | 17 | | 3 user reviews | 98 | Zoom | No | Nikon F | |
| | | Lens | 14 | | 3 user reviews | 99 | Zoom | No | Canon EF | |
| | | Lens | 22 | | 14 user reviews | 100 | Zoom | No | Canon EF-S | |